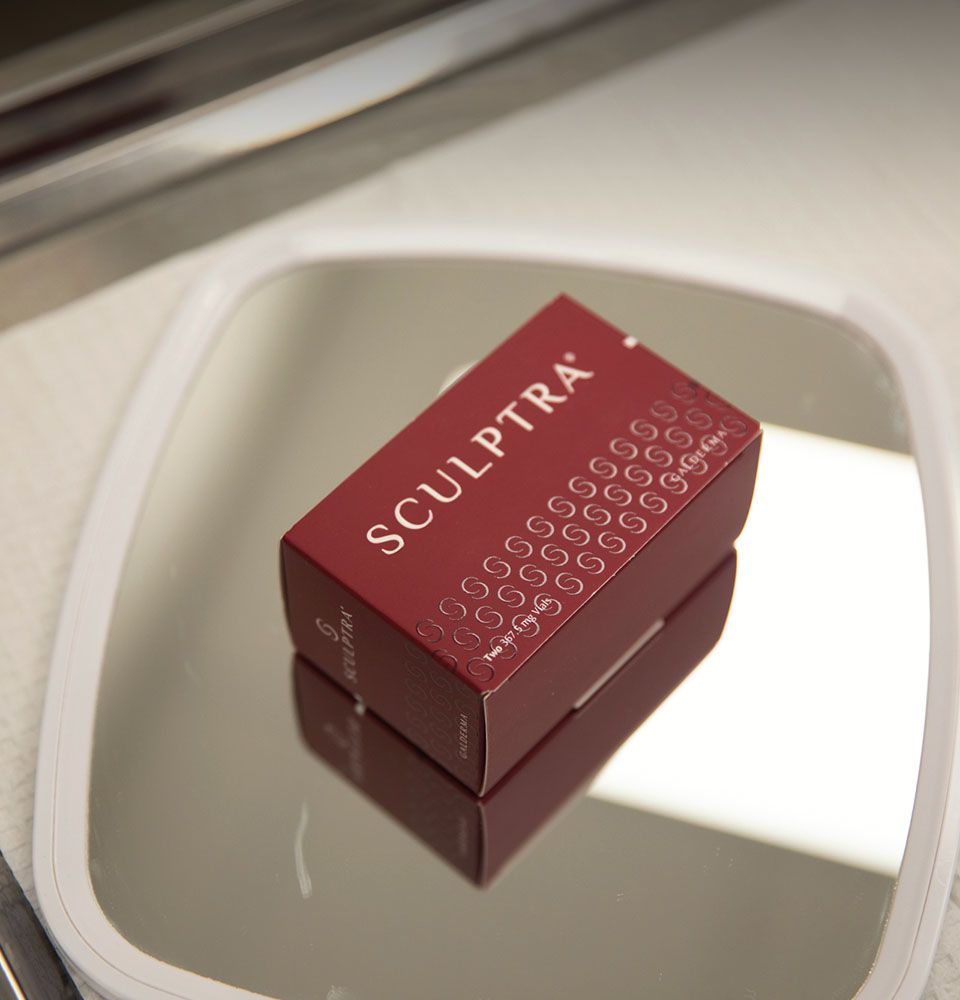 Defy the Aging Process with Sculptra Treatments in Scottsdale & Rio Rancho
Indulge in timeless radiance and flawless skin. Experience youthful results with our industry-leading injectable in Scottsdale and Rio Rancho.
Specifications
Technology used: Poly L-lactic acid injection that stimulates the body's natural collagen production
Best for: Adults over 18 with healthy immune systems
Duration: 3-4 weeks apart
Number of sessions needed: Variable depending on age
Not suggested for: Not suitable for people who have severe allergic reactions (anaphylaxis) or allergies. Risk factors for those who develop hypertrophic scarring or keloid formation after procedures. Speak with your doctor if you are pregnant or breastfeeding prior to treatment.
Trust the Pioneers of Flawless Elegance
Our journey within the aesthetic industry has led us to set standards that include high-quality treatments such as Sculptra in Scottsdale and Rio Rancho.
Restore Youthful Glow
Sculptra treatments reduce the appearance of facial lines, wrinkles, and folds. This treatment rekindles the youthful essence of your skin by stimulating your body's natural collagen to restore volume and the youthful appearance you once had.
Sculpt Stunning Contours
Sculptra can reduce sagging of the skin and fine lines and wrinkles. In return, Sculptra can redefine your facial contour. Turn back the clock and erase signs of aging with our Sculptra injectable.
Unmask the Veil of Time, Reclaim Your Confidence
The ravages of time on your face betray your youthful spirit, leaving you combating wrinkles and contour deficiencies. The once smooth and supple visage feels like a distant memory as the mirror reflects tired, aging skin.
You want to say goodbye to:
Visible signs of aging include facial lines, wrinkles, and folds
Loss of collagen leading to contour deficiencies and sagging skin
A desire for a non-surgical and minimally invasive treatment option
Lack of confidence
Difficulty finding a reliable and effective solution for loss of collagen, sagging of the skin and wrinkles
Step into the Spotlight with An Enhanced Aesthetic Presence
Are you frustrated and overwhelmed by various treatment options? What if you could reignite the glow from within and paint the picture of your ideal self?
With Sculptra, you gracefully defy time with visibly reduced facial wrinkles and attain a captivating appeal. See how it transforms your contour imperfections into enhanced aesthetic presence and lets you celebrate the fusion of radiance and well-being. 
Cosmetic correction of facial lines and wrinkles
Boost collagen production for visible improvements
Defeat contour deficiencies and revitalize your appearance
Illuminate with radiance using a safe and effective wrinkle filler option
Uncover your irresistible new look. Take advantage of our easy and convenient booking process!
Book Now
Discover an Artful Fusion of Science and Aesthetics
We want you to experience rejuvenation and step into the world with newfound radiance and confidence. 
With our revolutionary technology, Sculptra's injections of tiny, biodegradable PLLA beads mingle seamlessly within your skin. As they disappear, they inspire new collagen growth, initiating the rejuvenation process with breathtaking results.
Don't fret about your wrinkles anymore. Glide back into life confidently as our aesthetic treatments help alter your facial landscape, elevating your natural elegance and stimulating a world of new possibilities. Beyond treatment, Sculptra is your way to revel in the glow of success!
Book Now